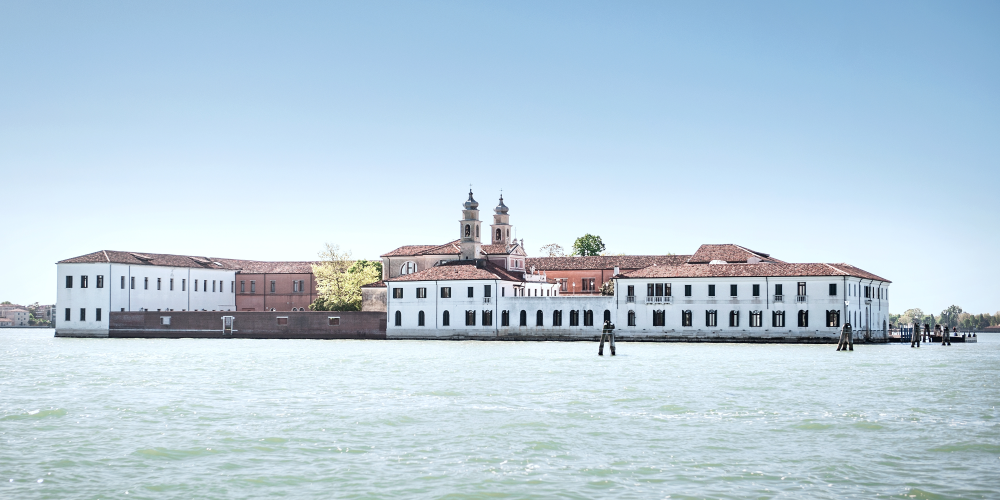 Venice International University is something unique in the academic world - a consortium of 20 universities from all over the world with an autonomous campus on the island of San Servolo, Venice, Italy.
Almost thirty years ago, the first President of Venice International University (VIU), Carlo Azeglio Ciampi, with visionary intuition recognized the opportunity to found a center dedicated to the interdisciplinary study of contemporary global challenges on the Island of San Servolo in the heart of the Lagoon of Venice.
Venice International University began with five pioneering institutions, and since has grown considerably, especially in the last decade; today VIU has twenty member institutions from across the globe whose students, professors, and staff constitute the vibrant, multicultural, global VIU community, where they can experience an international, interdisciplinary and intercultural opportunity for learning, teaching and research cooperation.
VIU was founded with the purpose of developing joint academic, research and capacity-building programs, across disciplines, continents, languages and cultures. It is a flexible and adaptable organization, funded by the annual contributions of the member institutions.
VIU has become the ideal setting for experimenting innovative approaches to education and training, where students, researchers and professors come together to exchange knowledge and ideas while exploring interdisciplinary and transdisciplinary perspectives in their studies and research.
VIU, together with its constituents, seeks to contribute to the creation of knowledge, understanding, and skills, and to respond to current and future major societal challenges faced by humankind today: environmental, social, cultural and technological phenomena and their local impacts. Knowledge creation across the disciplines - the humanities, social sciences, and the sciences - can play a fundamental role in coping with the Global Challenges.
VIU is committed to a critical exploration of what it means to envision a sustainable future, and the programs acknowledge the interconnected and intertwined relationships between human and natural systems. The activities take advantage of the multicultural context and the unique setting of Venice as a special laboratory, as a location that foregrounds the extraordinary culture of the past, the problems of the present, and the possibility of the future.
--

Focus Areas and Specialization Tracks
The following topics are addressed by assorted VIU programs
Sustainability | Environmental Management & Security; Green & Circular Economy
Innovation | Transport & Logistics; Creativity, Innovation and Design
Globalization & Global Challenges | Cities and Global Change; Identity, Heritage, Ethics & Human Rights; Comparative Cultures

Science and Society | Science Communication; Ageing Societies; Ethics in Research and Medicine
Humanities | Cultural Heritage Conservation & Management; Visualizing Cities; Global Humanities; History and Memory; Environmental Humanities; Republics and Republicanism; Film Studies.
--

Academic Programs

Globalization Program | 2 semesters + summer sessions, for bachelor and master's students who gain credit towards their degrees
PhD Academy | to develop transversal skills and promote research cooperation among advanced PhDs
Graduate Seminars | to support early-career PhDs beginning their research
Summer schools | intensive taught programs for various target groups, from bachelor to PhD, and also professionals
Training & Capacity Building
Staff training; International capacity building; collaboration with the private sector

Research
European, international and national projects activating and merging competences of member universities
Dissemination
High level conferences, seminars and workshops, organized by members or brought by other international institutions
Thematic Programs
Through its three Thematic Programs, VIU endeavors to promote a research triangle of stakeholders – industry, academia and government, developing solid networks of experts and institutions relevant to the focus areas. More recently, the multi-stakeholder approach has been extended to include citizens and civil society. The engagement of citizens and civil society has the potential to inform both research and policy, and positively impact the investigation and tackling of today's global challenges.
_TeDIS Program on Innovation
_TEN Program on Sustainability
_Ageing Program
VIU also participates in public debate on the issues through conferences and events, including the Opening Ceremonies of the academic semesters, which feature Lectiones Magistrales delivered by esteemed guests, and the VIULectures series in which interesting topical issues are put forth for debate.
--
Venice International University was founded on December 15, 1995 and is a legally recognized association operating under Italian private law. Its status as a non-profit association carries full patrimonial autonomy.
The Italian Ministry for University Education and Scientific and Technological Research formally recognizes the Venice International University association as an international centre of higher education and research (by Ministerial Decree on 23 October 1997).