@lfa was a project co-financed by theEuropean Commission-Europe Aid Cooperation Office; an Exchange Program between Universities of the European Union and Latin America for building a research community for local economic development.

The aim of the project was to develop an international research community specializing in the field of local economic development, industrial districts and small businesses, through the support of innovative technological solutions in the process of knowledge sharing and skill acquisition.
Training program improved professional competencies of young researchers in the new scenario of information society, on the basis of online activities, international events as well as on-site research. Integration among universities, research institutions and economic players across countries was also perceived both in terms of academic offer improvement, research and economic cooperation.
The training program provided specific knowledge on the economic models of local development related to the countries participating in the program, from a theoretical and empirical perspective, referring to the emerging scenario of the new economy. Specifically, training adopted a cross-national approach, promoting a direct comparison among specific models of development coupling economic theory, case studies, on-site research, exploiting different specialisation and economic contexts of the countries involved. Training program stimulated the learning process through personal and direct interaction as well as online collaborative work, supporting the creation of an international community among researchers. Training offered also an in depth analysis of ICT tools, to explain ICT implications and potentialities for the management of firms and local economic systems.
The training programme was developed coupling traditional training methods (face-to-face) as well as distance learning methodologies and tools.
Project Publication
αLFA
Latin America Academic Training
Competitiveness and development in Europe an Latin America: learning from experience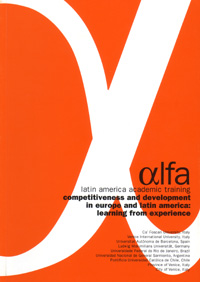 • Mobility Plan
The mobility programme around the countries considered, Argentina, Brazil and Chile for the Latin American and Italy, Germany and Spain for the European lasted 6 months continuously, starting from November 2003. The mobility programme will involved 14 grant-holders, 10 Latin American, 4 European.
Grant-holders had direct experience of the different training activities (courses, seminars) carried out by the Universities involved in the project. Moreover, grant-holders were able to set up a large network of academic and business relationships that can be exploited in terms of further scientific collaboration among the countries as well as in terms of dissemination activities.
Grant-holders could benefit from the courses and activities organized in all the countries involved in the program. Specifically, the training program focused on the topics related to the project: local development, innovation and social networks, economic geography, local manufacturing systems, globalisation, logistics, information and communication technologies.

• Distance Learning Activities
Distance learning activities started before the mobility and lasted during the whole period of the program. Distance learning was focused on the general introduction on economic models of local development and ICT tools and their implications on business management.
Collaborative activities and discussion were stimulated through the online research environment. Though distance learning the training program became more flexible and customized, according to the needs of the grant-holders but also by exploiting the distributed sources of contents and materials provided by the Universities. Each institution and grant-holders had the opportunity to share on line materials and documents and also to collect and enrich those contents in a new and integrated platform.
Project co-ordinator
Università Ca' Foscari Venezia - Italy
Europe/Latin America Partners
Venice International University – Italy;
Universidade Federal do Rio de Janeiro – Brazil;
Universitat Autonoma de Barcelona – Spain;
Universidad Nacional de General Sarmiento – Argentina;
Ludwig Maximilians Universitat – Germany;
Pontificia Universidad Catolica - Chile
Supported by
Province of Venice and Municipality of Venice.